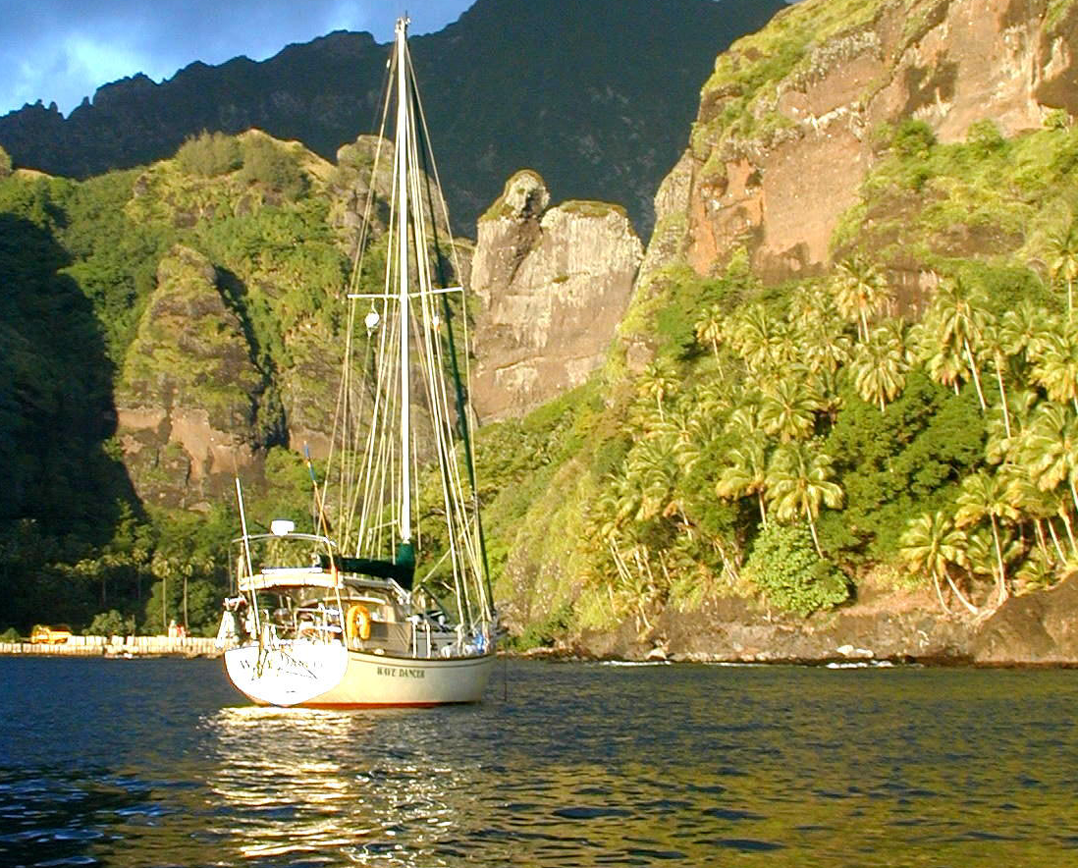 Around the World in an Island Packet…
New developments in design and technology aside, circumnavigation is not an easy task. Sailing the world is still far more than just setting the autopilot and enjoying a drink. That's why it's important to choose a boat that is DESIGNED and PROVEN for Bluewater cruising success. When you start with the the best hull design, best materials, and best construction processes, it makes the rest of the journey just that much easier to accomplish.
Below are our top three thoughts for success.
1. Spend as much prep and planning time as possible. Write everything down. Make itemized lists and check them off.
2. Go with the current and the winds, you'll stay within the bandwidth of good weather.
3. Lastly, focus on and pick the right seakind AND seaworthy yacht for your travels. This will increase your comfort and could literally save your life one day.
Circumnavigation Results
IP 35s
IP 35 (#70)
"Voyager"
Mike and Jill Crew
Winter 1991 – Fall 1997
IP 35 (#02)
"Cygnus"
Art and Sandy Pond
Winter 1991 – Summer 1996
IP 35 (#058)
"Pacific Star"
Horst and Julia Wolff
Fall 2007 – Spring 2013
IP 35 (#25)
"Dejavu"
Andre Homem de Mello
Continuous Solo Circumnavigation
9/30/01 – 4/13/02
IP 38s
IP 38 (#10)
"Happy Cs"
Herb and Ruth Crawford
Fall 1988 – Summer 1994
IP 38 (#63)
"Star"
Tom and Bonnie Menaker
Winter 1988 – Spring 1993
IP 38s
IP 38 (#109)
"Wunschtraum"
Jim and Marita Hofferberth
Spring 1994 – Summer 2001
IP 38 (#139)
"September Song"
Jim and Diane Carlin
Winter 1996 – Spring 2002
IP 38 (#138)
"Estrellita"
Bill and Amy Betts
Winter 2007 – Fall 2013
IP 40s
IP 40 (#58)
"Ventana"
Rob and Dee Dubin
Spring 1995 – Winter 2011
IP 40 (#61)
"Madjk"
Mike and Amy Smith
and children Dani, Jaye and Kegan
Summer 1997 – Fall 1999
IP 45s
IP 45 (#03)
"Dream Catcher"
Bruce and Mary Carol Senay
Fall 1997 – Summer 2002
IP 350s
IP 350 (#008)
"Chyka"
Henry Holt
Winter 2000 – Winter 2008
IP 380s
IP 380 (#058)
"Cyan"
Chuck and Alexis Lynn Evans
Summer 2004 – Spring 2013
IP 420s
IP 420 (#92)
"Trance"
Dan & Marlene Reasoner
Winter 2019 – Spring 2022
IP 465s
IP 465 (#002)
"At Last"
Mark and Janet Gorrell
Spring 2010 – Spring 2013
IP 485s
IP 485 (#016)
"Marbella"
Bob and Nancy Bush
Winter 2004 – Winter 2014